The 2020 Advising Fall Welcome took place on Tuesday, October 13 via Zoom and is available in full as a recording. Undergraduate Education leadership, Academic Advising Enrichment (AAE) staff, college advising directors, and campus partners shared updates with the advising community. The event concluded with the UC Davis Academic Advising Awards ceremony, which recognizes outstanding contributions related to advising across campus.
Undergraduate Education Updates
Undergraduate Education Interim Vice Provost and Dean Cynthia Carter Ching welcomed the advising community, celebrated UC Davis' ranking as second among national public universities for social mobility, and shared some related insights about institutional language. She advocated for a shift from "Achievement Gap" to "Equity and Outcomes"; the "Equity and Outcomes" term rightly puts the focus on our efforts as an institution. Ching stated, "we can really only take credit for our efforts at equity and the aggregate outcomes that those efforts do or don't yield…doing our level best to make sure that [our students] have that amazing social mobility that a UC Davis degree provides."
Ching went on to share that, after a series of challenges and roadblocks, the Academic Advising Enrichment Executive Director position was modified to reflect a heightened emphasis on equity in alignment with campus strategic goals and was posted as an open recruitment. Assistant Vice Provost Helen Frasier followed up to outline the steps that UE would take during the search with a goal to attract a strong and diverse candidate pool.
Frasier switched gears to recognize the exceptional work of advisors with regard to Aggie Advising and orientation. She expressed her gratitude for the advising community's engagement and commitment to students during this period of change that required a great deal from advisors overall.
College Advising Updates
College advising directors Ebony Blackwell (BASC), Stacey Cook (COE), Beth Floyd (L&S), and Donna Vivar (CA&ES) provided updates on advising from their respective colleges. They also echoed congratulations to the advising community for successfully implementing the new orientation program for all incoming students.
Academic Advising Enrichment Data & Projects
AAE Collaboration and Data Coordinator Andrea Duff presented data collected from the advising community via survey after spring quarter with regard to remote advising. Advisors overwhelmingly (98%) responded that they were able to effectively advise students remotely. However, certain pervasive challenges were evident in the student experience from the advisor perspective. AAE contributed to a Center for Educational Effectiveness report, Insights from Spring 2020 Remote Instruction, that included advisors' recommendations to faculty.
AAE Project and Communication Manager Nicole Wood updated the advising community on a number of community and campus-wide projects currently underway. The dual-phased Major Mapping project includes contributions from departmental advisors; ultimately major maps will help support students' progress through their majors. The Early Alert project is one that has recently involved a wider spectrum of collaborators with a goal to provide a mechanism to identify students in need of a case-managed support intervention before they wind up in academic difficulty. Finally, a representative group from the wider advising community is currently putting together a proposal for an Administrative Advisory Committee to the Chancellor on advising for equity. The proposed committee would be charged to identify barriers, through an advising lens, that exist as a function of institutional racism and make recommendations for anti-racist action, breaking down those barriers to create ever-increasing equitable conditions on our campus.
Academic Advising Enrichment Collaborations
College of Engineering First-Year Academic Advisor Lisa Laughter outlined the first-year communication campaign, currently in its second year. The team piloted the campaign last year, learned some lessons via assessment, and made some changes for this year. The first-year communication campaign messages are available on the AAE website.
Arts Group Academic Advisor Pamela Pretell shared updates from the Social Justice and Advising Community (SJAC). With goals to advance equity and justice in the advising community, SJAC aims to provide opportunities for learning, reflection, and advocacy. Contact Pam to get involved.
College of Agricultural and Environmental Sciences Academic Advisor Danielle Huddlestun provided updates from the Advisor Training and Professional Development Committee, including a focus on equity and inclusion in partnership with SJAC for the year ahead. Coffee talks have been rebranded as Advising Community Dialogues, which will take place more frequently and will focus on increasing advisor competencies regarding equity and equity centered conversations.
Community Partner Updates
Undergraduate Research Center Faculty Director Annaliese Franz shared opportunities for students to get involved in research.
Global Learning Hub Advising Coordinator Brianne Holden spoke about the Global Education for All Initiative and how the Global Learning Hub supports students across four areas: community engagement, global skills and leadership, internships and research, and study abroad.
Internship and Career Center Advisors Lynn Fowler, Christina Cadang, and Spencer Atkinson talked about the Career Champions modules and workshops, as part of Aggie Launch, to help give advisors the tools to support career conversations with students.
2020 UC Davis Academic Advisor Awards
The Fall Welcome concluded with our sixth annual UC Davis Academic Advising Awards ceremony. Congratulations to the 2020 Academic Advising Award recipients!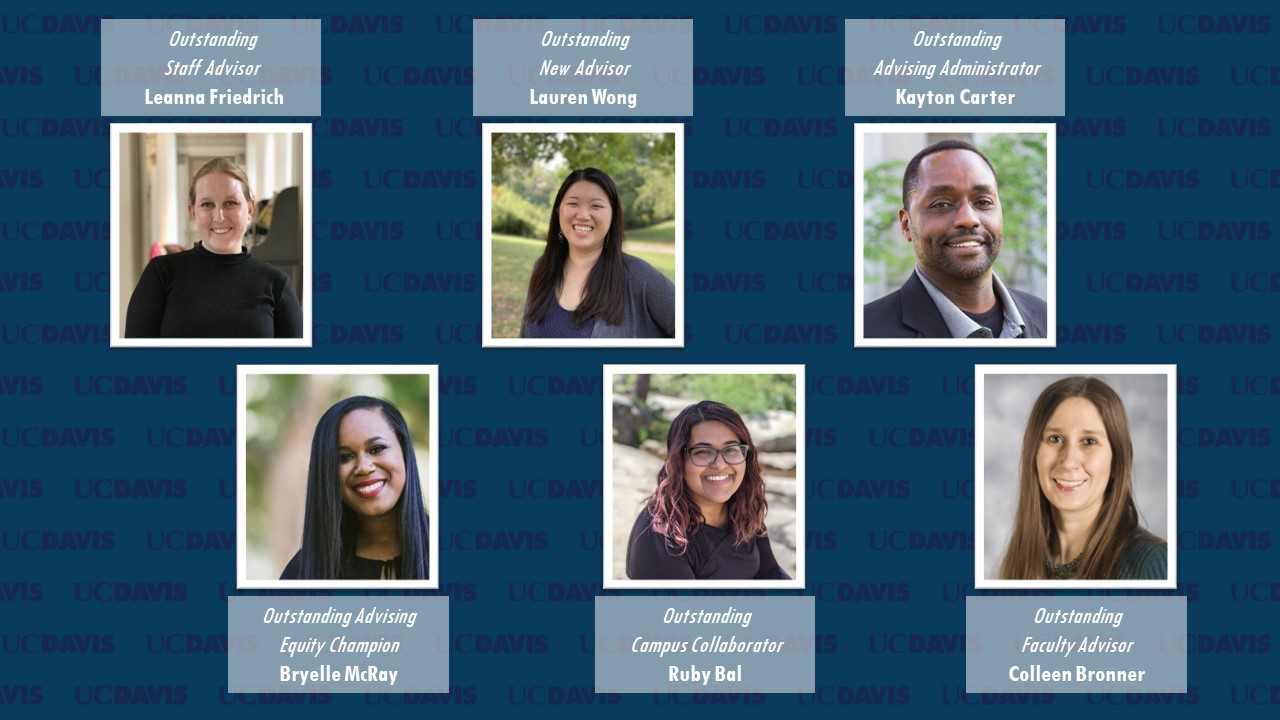 Outstanding Staff Advisor: Leanna Friedrich, College of Letters & Science

Leanna was selected as Outstanding Staff Advisor due to her notable advocacy for students.  She is a natural leader who consistently offers to support colleagues on projects and is always willing to help.  She skillfully crafted learning outcomes and created assessments for mandatory advising workshops.  With regard to advising experiences, one student remarked, "[Leanna is] extremely helpful and researched every question on a long bullet-list of questions I emailed her for our meeting. Every question was answered, and she provided me several resources for finding out more information...I felt the need to specify how exceptional her advising was. She is an excellent advisor." Leanna beautifully articulates needs, wants, options and more.  She has an exceptional ability to analyze situations, ask questions and in turn, communicate effectively and efficiently.

Outstanding New Advisor: Lauren Wong, East Asian Languages & Cultures

Lauren's outreach, coordination, and efforts contributed to a 30% growth in the Human Rights minor.  Her department Chair said, "Lauren is the backbone of the department in ways that transcend her role as an advisor to students…including a meet-the-faculty event for students."  The Mental Health First Aid training that she organized for faculty prior to COVID has been an immense help during these times.  Lauren is a fast learner.  She created a virtual graduation celebration for students & families in her department, learning video editing and production to pull it off.  The event included greetings from faculty in multiple languages, student awards, and an appearance from Chancellor May.

Outstanding Advising Administrator: Kayton Carter, Student Affairs Retention Initiatives

Kayton is a visionary leader and administrator, involved in retaining underrepresented students on campus.  Kayton's bold vision inspired campus senior leadership to partner with him in the establishment of 4 academic retention centers: the Center for African Diaspora Student Success, the Chicanx Center for Student Success, the Native American Center for Student Success, and the Asian Pacific Islander Initiative. 

Even now, in an administrative role, he still makes time to meet with students—often after hours and by phone.  He is engaged with students holistically, not only with academic advice but about adulthood and life. As Director of the Center for African Diaspora Student Success, Kayton worked with senior students on AP/SD to provide an additional support system.  He regularly engages in assessment and redesign of programs to meet the needs of students.  Some of Kayton's recent contributions include offering a Black Male Leadership Seminar for students; acting as staff advisor for the Beyond the Stats Initiative which focuses on formerly-incarcerated & system-impacted students; and leading the Linda Frances Alexander Scholar Summer Residential program for African diaspora students.

Outstanding Equity Champion: Bryelle McRay, Health Professions Advising

Bryelle's contributions as an advisor in Health Professions Advising have led to a noteworthy increase in Black and African American student community presence involved in Health Professions Advising.  Some of these equity focused contributions include Bryelle's p

artnership with the Center for African Diaspora Student Success to host a physician meet & greet.  She partnered with the Minority Association of Pre-Med Students for a Spring Break trip to visit eight medical schools in 5 days.  She hosted a Black Students in White Coats First Year Aggie Connection last year.  That Connection started with six students, by the end of the quarter, nearly fifty Black aspiring physicians were attending.  Bryelle coordinated a pre-med symposium and intentionally included a breakout session to engage underrepresented students, inviting med students and professionals from similar backgrounds to share experiences and encouragement.  Bryelle's impact means that students feel seen, understood, and supported.  She is an equity champion.

Outstanding Campus Collaborator: Ruby Bal, College of Agricultural & Environmental Sciences

Ruby goes the extra mile with campus partners to understand operations in a way that helps with recruitment and information-sharing. 

Ruby was instrumental in bringing together college representation to share information and identify best practices with regard to recruitment & retention.  She works closely with admissions and presented a "Family Feud" style presentation featuring current students talking about their experiences to share with college admissions recruiters.  A prospective Aggie family member shared, "Thank you for an amazing experience today on campus! From the preparation of the trip to the execution, I could not have imagined a more hands on and informative introduction to the campus as well as all that it has to offer."

Outstanding Faculty Advisor: Colleen Bronner, College of Engineering

Colleen has a passion for serving others and is admirably committed to students in Civil Engineering.  She checks in on advisors in the department and shows genuine care about their roles and future.  One student shared, "Colleen is more than a professor, she is also a friend that I know I can reach out to if I need help."  She advocated within the College of Engineering for the P/NP option and extended deadline when the pandemic started.  She proactively surveyed students at the start of the pandemic to see if they had the resources needed for coursework and identified students in need, in order to direct them to the laptop loaner program offered through campus. She also created a slack channel for students to communicate with each other and with faculty.  A student stated, "Professor Bronner truly shows passion in everything she does for the department and she is a role model for what educational institution leaders should be: compassionate, supportive, and selfless."