UC Davis Academic Advising Conference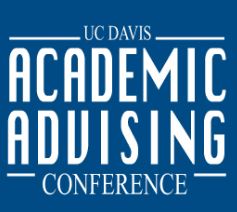 In an effort to serve professional development needs and significant interest from the advising community, the Advisor Training and Professional Development Task Force (ATPD) established the basis for an annual campus-wide academic advising conference, the UC Davis Academic Advising Conference (UCDAAC), in 2015.  The conference occurs annually in Winter or Spring Quarter.  Academic Advising Enrichment sends out announcements about registration, volunteers, proposals, and any other pertinent details via the Advising Announcements Listserv.  The UCDAAC will inevitably shift and change over time based on needs and circumstances, but we are proud to have offered this professional development opportunity for the campus advising community every year for nearly a decade.
The 2015-2017 conferences addressed relevant themes in advising via expert presenters and topical breakout session tracks.  Based on participant feedback, the format shifted in 2018 and 2019 to provide an opportunity for the advising community to engage more deeply with facilitated discussion sessions about campus and broader academic advising focus areas.  As campus shifted to a new orientation model for 2020, the conference focused on orientation changes and preparing advisors for the transition.  The 2021 conference took place virtually as a result of the global COVID-19 pandemic.  While much of the content for the 2022 conference continued in a virtual modality, Academic Advising Enrichment (AAE) included an in-person lunch event to bring the advising community together after two years of virtual engagement. The 2023 conference marked the return to a fully on-campus event. 
2023 

Finding Joy in Advising: Authenticity, Community, and Celebration

Wednesday, March 22, 2023 | 

UC Davis Conference Center


Morning Session Recordings

2022 

Advisors in Focus: Shaping the Future through our Experiences

April 25-27, 2022 | In-Person Lunch & Virtual Program
Overview, Materials, Recordings

2021 Equity & Inclusion in Advising

May 11-13, 2021 | Virtual Program
Overview, Materials, Recordings

2020 The New Orientation Model

February 19, 2020 | UC Davis Conference Center
Overview

2019 UCDAAC Half-Day Symposium

February 7, 2019 | UC Davis Conference Center
Overview

2018 UCDAAC Half-Day Symposium

February 27, 2018 | UC Davis Conference Center
Overview

2017 Promoting Educational Equity through Advising

May 2, 2017 | UC Davis Conference Center
Overview

2016 Changes, Challenges, Choices: Creating Momentum for the Future of Advising

March 17, 2016 | UC Davis Conference Center
Overview

2015 Cultivating Collaboration: Seeds for Sustainable Success

May 26, 2015 | UC Davis Conference Center
Overview