January 2015
Presenter: Danen Adelson, Psy.D., Student Health and Counseling Services psychologist
A 2011 survey of almost 28,000 college students reported that in the past year, 60.5% reported feeling very sad; 45.2% reported feeling hopeless, and 6.6% had seriously contemplated suicide. An estimated 1,088 suicides occur on college campuses each year, making it the second leading cause of death among college students.
SHCS places an emphasis on prevention and early intervention.  Dr. Adelson's presentation described prevention efforts and introduced some unique forms of outreach to destigmatize mental health issues and make support more accessible.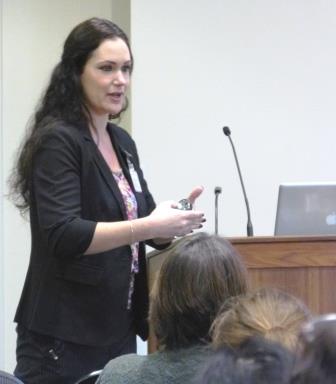 The Interactive Screening Program is an anonymous, personal outreach method that reaches students who otherwise might not seek help on their own.  For details, view the presentation.  
Each Aggie Matters:  This website invites faculty, staff, and students to pledge their commitment to mental wellness and nonjudgemental conversations about such topics on our campus. We also welcome stories from all Aggies (faculty, staff and students) who have been impacted by mental health issues either individually or have supported others through their struggles.
Student Health and Counseling Services: Counseling Services: hours of operation, location of services, review of services, and the phone number for appointments & advice nurse  (530) 752-2349)
The Just in Case mobile app gives students a way to carry critical support information and connect with counseling services on their smartphones.
Dr. Adelson explained changes in access to SHCS counseling services.  Appointments are required for North Hall (752-2349).  SCHS urgent care is availabe on a drop-in basis at the Student Health and Wellness Center.  Advisors discussed the implications of this change and challenges it presents. 
Dr. Adelson's presentation is available here.