The annual Advisor Fall Welcome took place on Thursday, October 17, 2019 where Undergraduate Education Vice Provost and Dean Carolyn Thomas and campus partners shared updates with the advising community. The event concluded with the UC Davis Academic Advising Awards presentation, which recognizes outstanding campus contributions related to advising.
Updates from the Undergraduate Education Vice Provost and Dean
Carolyn Thomas, Vice Provost and Dean of Undergraduate Education, welcomed attendees and expressed her gratitude for the many ways advisors support student success on our campus and her recognition that advisors' work with students plays a significant role in shaping their ability to pursue meaningful college experiences. She also acknowledged that the advising community is in a significant state of change and shared that she appreciated advisors' willingness to explore opportunities to better serve students in the midst of these changes, in spite of some challenges.
Formerly known as the Office of Academic Advising, Thomas shared that the academic advising unit within Undergraduate Education has changed its name to Academic Advising Enrichment. The name change better communicates the role of the unit as one that does not advise students but rather enriches the work of our academic advisors on campus who do. Thomas provided an update on advising leadership changes. She introduced Ebony Blackwell, Advising Director in the Biology Academic Success Center. She announced Leslie Charlton as Acting Advising Director in the College of Agricultural and Environmental Sciences, as well as Nancy Davis as Interim Advising Director in the College of Engineering. Thomas also provided an update on the Executive Director of Academic Advising search, noting that she hopes to hire someone to fill the vacancy by January. The advising community will have an opportunity to hear presentations from finalists for the role and share their feedback as part of the recruitment process.
Finally, Thomas presented a set of equitable hiring practices supported by the advising directors and associate deans. The practices, derived from recommendations from the Social Justice and Advising Community (SJAC), aim to recruit well-qualified advising professionals who bring a diversity of backgrounds and experiences to our campus advising community. The Academic Advising Enrichment team will work to support colleges and departments integrating these guiding principles into practice.
Peer Advisor Training
Academic Advising Enrichment Analyst Nicole Wood spoke about peer advisor training, after having completed a second year in the centrally coordinated mode. She discussed improvements that the team made in light of feedback and experiences from 2018, emphasized that supervisors are in charge of their peer advisor's success, and shared that plans for 2020 include increased engagement with supervisors.
Communication Project
On behalf of the First Year Coordinators' team, College of Engineering Advisor Lisa Laughter presented the communications project currently underway in conjunction with a dedicated web resource available to first-year students. Explore the First-Year Student Resources webpage for more information. Subscribe to the newsletter that first-year students receive at strategic intervals or read the newsletters via the webpage as they automatically populate on the site once they get delivered to students.
Training & Professional Development
Assistant Director of Student-Athlete Outcomes Advising and current Chair of the Advisor Training and Professional Development Committee (ATPD), Erin McMurry presented plans for the UC Davis Academic Advisor Certificate Level Two. The second level certificate will build upon the first and add personal advising philosophy and reflection components in alignment with NACADA core competencies.
Beyond the Stats
Carolyn Thomas and Executive Director of Strategic Academic Retention Initiatives Kayton Carter explained the UC Davis Beyond the Stats (BTS) Initiative, led by Faculty Director Ofelia Cuevas, to the advising community. The initiative seeks to better support formerly incarcerated and system-impacted students by raising awareness, identifying resources, and creating connections on campus. Advisor connections related to this initiative are currently listed on the Academic Advising Enrichment website. A comprehensive BTS website is forthcoming.
Undergraduate Research
Undergraduate Research Center (URC) Faculty Director Annaliese Franz shared information about the role of the URC and encouraged undergraduates to engage in research. She advocated for the community to collectively "inspire and enable all students at UC Davis to engage in research, design, and/or discovery experiences" and busted some common myths about undergraduate research.
Orientation 2020
Assistant Executive Vice Chancellor Karl Mohr and New Student Orientation Project Manager Scott Asakawa discussed what advisors should expect for Orientation 2020. The new model elements are known as Aggie 101 (online modules), Aggie Advising (remote advising), and Aggie Orientation (in-person programming). The Academic Advising Enrichment team will coordinate advisor training once foundational elements become finalized. Log into the campus Orientation 2020 website for information and updates.
2019 UC Davis Academic Advising Awards
The Fall Welcome concluded with Carolyn Thomas and Undergraduate Education's Assistant Vice Provost Helen Frasier presenting the fifth annual UC Davis Academic Advising Awards. Congratulations to the 2019 Academic Advising Award recipients!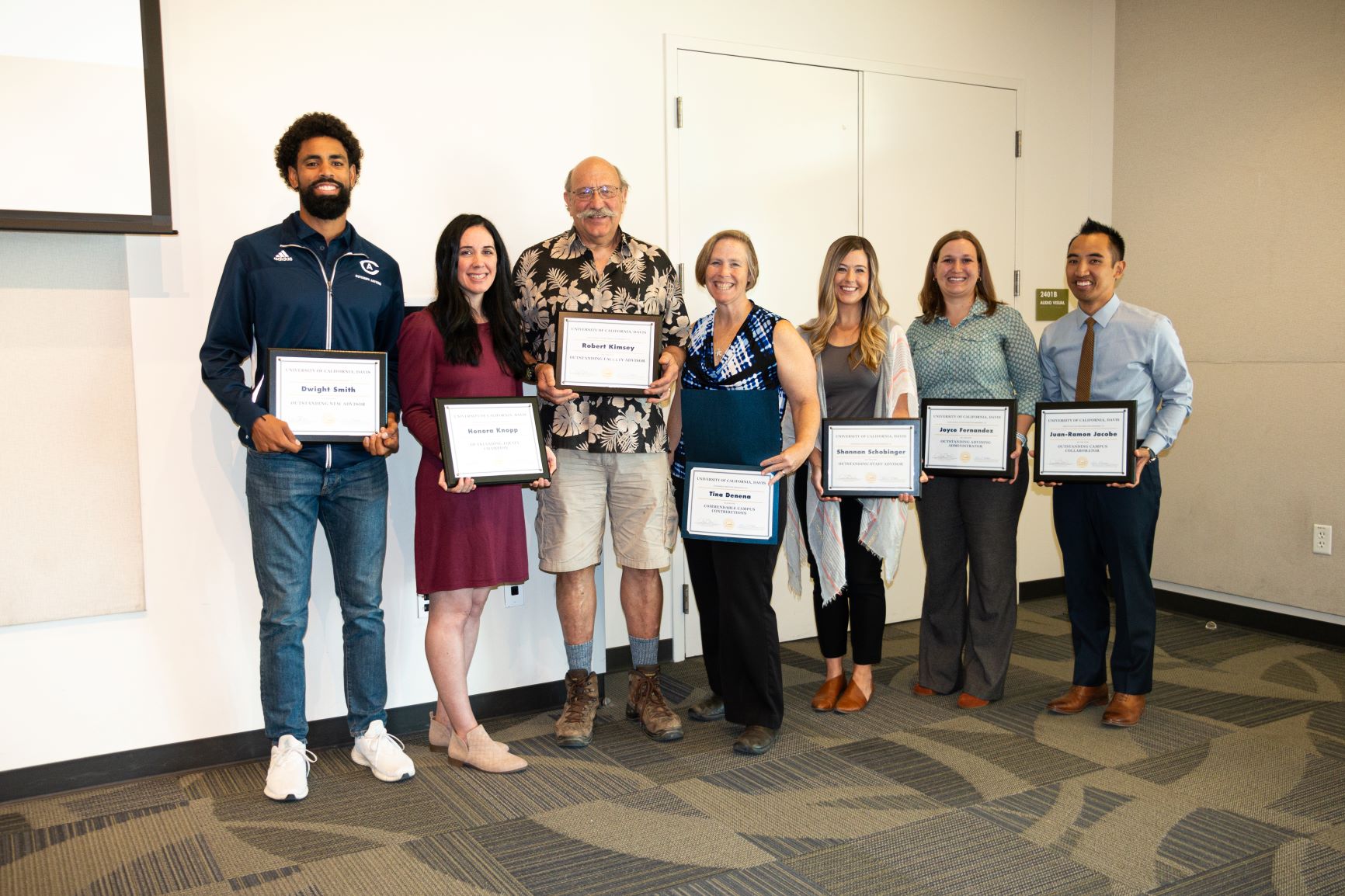 Outstanding New Advisor: Dwight Smith, Intercollegiate Athletics
Outstanding Equity Champion: Honora Knopp, Dean's Office, College of Agricultural and Environmental Sciences
Outstanding Faculty Advisor: Robert Kimsey, Entomology and Nematology, 

College of Agricultural and Environmental Sciences

Honorable Mention for Outstanding Campus Contributions: Tina Denena, Mathematics, College of Letters & Science
Outstanding Staff Advisor: Shannan Schobinger, Biology Academic Success Center
Outstanding Advising Administrator: Joyce Fernandez, Biology Academic Success Center
Outstanding Campus Collaborator: Juan-Ramone Jacobe, Enterprise Student Applications