The 2021 Advising Fall Welcome took place on Wednesday, October 13 via Zoom and is available in full as a recording. Academic Advising Enrichment Executive Director Kayton Carter hosted the event, with updates and information from Undergraduate Education, as well as partners across campus. The event concluded with the UC Davis Academic Advising Awards ceremony, which recognizes outstanding contributions related to advising.
Carter launched the event with the official campus Patwin Land Acknowledgement, as well as videos to honor Indigenous Peoples' Day and Hispanic Heritage Month. He also welcomed October acknowledgements shared by participants about Filipino American History Month, LGBT History Month, and National Coming Out Day.
Undergraduate Education 
Undergraduate Education Interim Vice Provost and Dean Cynthia Carter Ching shared her appreciation for the advising community during what has been a hard year, followed by challenges that come along with the transition back to campus. Assistant Vice Provost Helen Frasier echoed Dr. Ching's remarks and celebrated the extraordinary work of the advising community, with specific emphasis on orientation efforts. She asked the advising community to complete the forthcoming survey on orientation. 
Kayton Carter updated the group on the status of professional development for advising and the newly launched Advising for Equity Administrative Advisory Committee. He also re-visited the feedback and themes that arose from the 2021 UC Davis Academic Advising Conference. 
Academic Advising Enrichment Project and Communication Manager Nicole Wood updated the advising community on the Major Mapping project, which required significant contributions from departmental advisors. Academic Advising Enrichment Collaboration and Data Coordinator Andrea Duff presented plans for an Advisor Mapping project to establish a baseline about who we are as a community.
Campus Partners 
Academic Advisors Stephanie Myers and Lauren Wong are the new Social Justice and Advising Community (SJAC) co-chairs. They spoke about getting involved with SJAC. The fall meeting is scheduled for November 18, 9am-10am, with an open invitation to advisors campuswide. 
Global Learning Hub (GLH) Advising Coordinator Brianne Holden provided updates on GLH developments and their efforts to connect every student with a global learning experience locally, regionally, or beyond.
Assistant Director for Residential Academics Erika Reynolds discussed the expansion of residential programs, including Residential Academic Centers, tutoring, and academic peer mentors.  
Internship and Career Center Director Marcie Kirk Holland presented on Aggie Launch and opportunities for advisors to take action, such as with the Career Champions modules.
Student Disability Center (SDC) Director Jennifer Billeci talked about shifts in accommodations as a result of return to campus, as well as additional services provided by the SDC.
Assistant Athletics Director for Student-Athlete Outcomes Advising Laura Goldhammer discussed the Academic Plan Form (APF) and its use to make sure that students are on pace to meet NCAA rules and regulations. 
Many presenters followed up with additional information via the advising listserv; pertinent documents are linked below.
2021 UC Davis Academic Advisor Awards
The Fall Welcome concluded with our seventh annual UC Davis Academic Advising Awards ceremony. We were excited to celebrate our outstanding awardees. Congratulations to the 2021 Academic Advising Award recipients!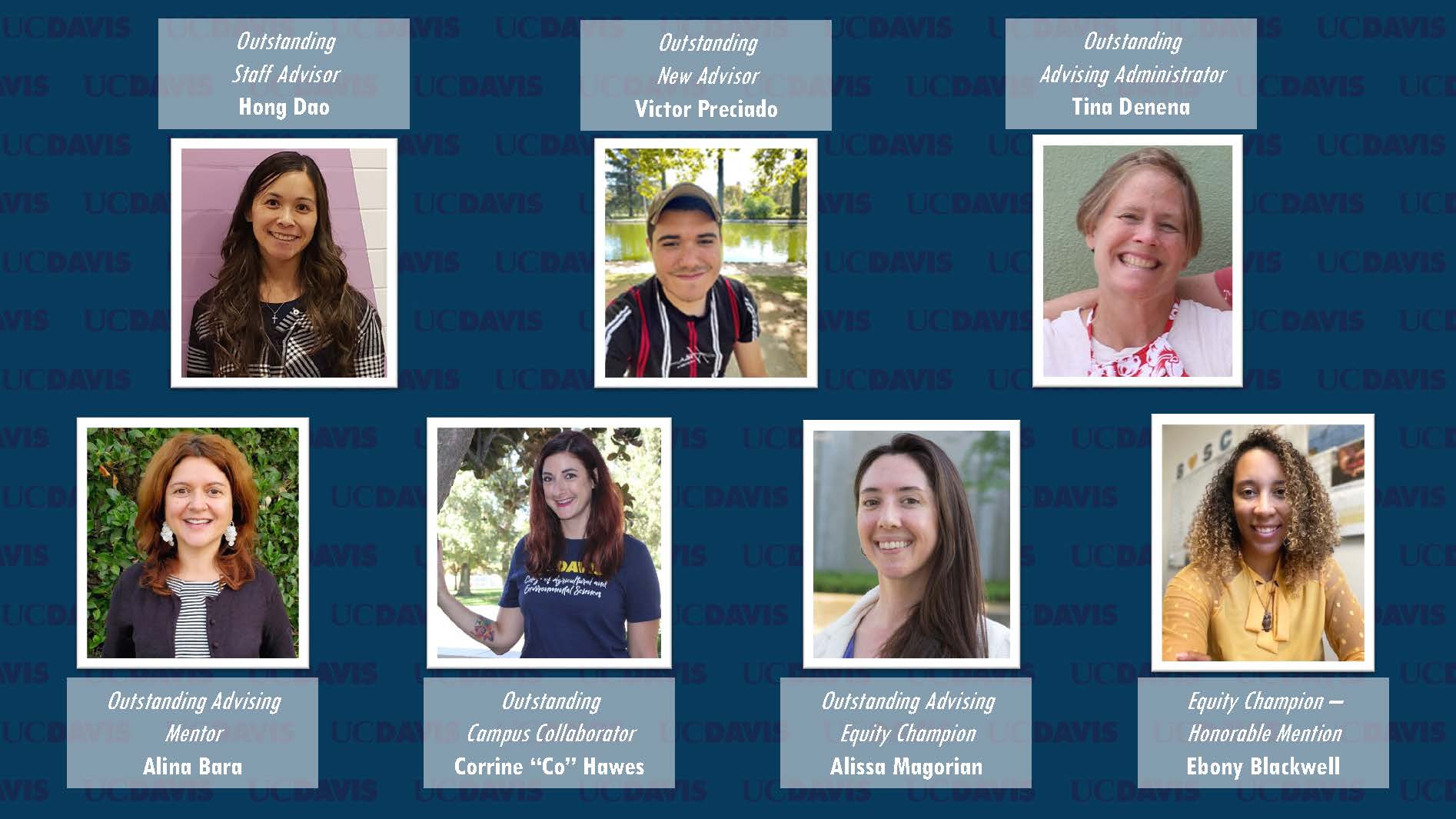 Outstanding Staff Advisor: Hong Dao, College of Agricultural & Environmental Sciences

Hong helped to develop the advising program for Exploratory students in the College of Agricultural and Environmental Sciences. Prior to Hong's efforts, there were not structured programs for supporting and guiding Exploratory students in the process of deciding on a major. Hong researched best practices, and from this research developed a series of workshops that provided opportunities for students to reflect on their skills, interests, and abilities – and prompted students to connect these skills and interests to major and career options. The workshops leave students with advising connections and concrete next steps to decide upon a major.

One of Hong's colleagues wrote that Hong demonstrates a passion for her work that is intoxicating, saying "I have never met anyone who loves their job as much as she does, and who truly believes that the work we do changes lives. I am so grateful for her compassion, work ethic, and leadership, because it contributes to a positive, equitable, and enjoyable work environment. She is an outstanding advisor and colleague, and a valuable asset to our team and the students she serves."

Outstanding New Advisor: Victor Preciado, Biology Academic Success Center

Victor joined UC Davis in March 2020, one week after the campus went remote due to COVID-19. His nominators shared that he has exceeded expectations for his split advising role across two of the largest majors in the College of Biological Sciences and has become an invaluable member of the team due to his commitment to inclusive, student-centered advising and by frequently taking initiative to implement innovative processes to best meet the varying needs of the students and advising team.

One student shared, "Victor is the most helpful advisor I have worked with. As a transfer student, I had community college counselors help me, but it was nothing like the support I've gotten from Victor. He goes above and beyond to help connect me with campus resources that relate to what we talked about in an appointment and even sends follow up emails. I feel like Victor wants me to succeed and has got my back."

Outstanding Advising Mentor: Alina Bara, College of Agricultural & Environmental Sciences

As a founding member of the Academic Advising Mentoring Program, Alina has worked hard to develop a vibrant and supportive program. In dual roles, as a mentor and as a committee member, Alina hosted shadow advisor events for advisors to learn in a hands-on way and share best advising practices; she hosts morale building events to help mentors and mentees strengthen their relationships; and she continuously strives to build bridges between and within the mentoring cohorts as a way to strengthen the advising network. One advisor shared, "over the past year, I greatly appreciated not only the assistance and information that Alina provided to help me succeed as a new advisor but also the positive and welcoming space that she creates in a virtual world. I asked a lot of questions and inevitably made some mistakes, but Alina's guidance is reliable, generous, and kind."

Outstanding Advising Administrator: Tina Denena, Mathematics Department

As the Student Services Supervisor in Math, Tina balances challenge and support, giving staff a large degree of autonomy and empowerment, while also being present if needed for help and encouragement.  She is a supervisor who works alongside staff and devotes time into her days to meet with students for advising in addition to all of her administrative duties. With Tina's organized leadership, there is minimal stress in conquering intense work. She makes her team feel calm and confident in their abilities to succeed and creates a welcoming and inclusive culture where they feel a sense of belonging in the department. Tina is very supportive of new ideas and innovation, and actively works to remove barriers for students and staff seeking to try new things.

Outstanding Campus Collaborator: Corrine "Co" Hawes, College of Agricultural & Environmental Sciences

Co is the Student Leadership Program Coordinator in the College of Agricultural and Environmental Sciences.  Co excels in partnering with advisors to identify fun ways to engage students and support them in achieving their academic goals. Co helps to plan programming for workshops where she identifies learning activities that build connections and community with students. She also partners with advisors to serve a diverse array of student populations including STEP students, Aggie Jumpstart students, and University Honors Program students, tailoring the programs she develops to the specific student population, always with the goal of supporting student learning and growth in fun and engaging ways. Co also developed strong partnerships with the Center for Leadership Learning (CLL) and is a member of the planning committee for the UC Davis Leadership Conference. She is always willing to lend a hand for all-things student related and is a valuable member of the UC Davis campus community!

Outstanding Equity Champion: Alissa Magorian, Yellow Cluster

As a relatively new advisor in the Yellow Cluster, Alissa took the lead on a demographic section in an Advising Experience survey as a way to capture trends in student experiences, tied to identity. Certain findings from that survey influenced planning for the 2021-22 academic year. At a campus-wide level, Alissa's contributions are far-reaching. Within the campus-wide advising community, Alissa helped to co-found the Social Justice and Advising Community (SJAC) Reading Group. Alissa has been a leader in the Lived Name & Gender Marker Implementation Committee for several years, and she has been instrumental in the years-long effort to update systems campus-wide to allow all students, staff, and faculty to use their lived name in all university systems.

Outstanding Equity Champion - Honorable Mention: Ebony Blackwell, Biology Academic Success Center

Ebony serves as the Director of the Biology Academic Success Center. In her role she makes herself aware of student challenges on campus, gathers the necessary information needed through targeted questions and datasets to begin envisioning change, and then, she executes. Her commitment to advising equity is evidenced by her participation with, and significant contributions to, various diversity-focused committees and projects, including: the College of Biological Sciences' Diversity Equity and Inclusion Committee; the CBS Community, Mentoring, and Training program; and the Avenue B Program. Of particular note is her role in the launch of the new pilot Community, Mentoring, and Training program. This program works specifically with students from underserved backgrounds experiencing academic difficulty; they pair undergraduate students with graduate student mentors to create opportunities for deeper connections, additional academic support, and extrinsic motivation.